Statistical Process Control - SPC
This course teach you how to use Control Charts to understand variation and respond correctly to measurement results.
All processes are subject to normal and special variation. Responding to these types of variation requires different approaches which you will learn about in this training.
Like Run Charts, Control Charts track data over time.
Unlike Run Charts, they detect and label unusual patterns in the data. This makes them powerful to identify data worth investigating.
You can also use them to determine if processes are stable, predictable and capable of meeting customer requirements.
This course is offered as 1-day classroom training or online training (videos and a web meetings of 2 hours). The training focus on practical applications.
We use a Galton board to understand basic statistics and the concept of normal and special variation. You learn to create Control Charts to decide normal variation.
We discuss applications that are relevant to you.
You need excel for the exercises and receive an excel file with Control Chart for individual values.
---
You learn to:
Maintain acceptable quality by monitoring critical variables
Work preventively by addressing issues early (e.g. maintenance)
Determine capability (is the process capable of meeting customer requirements?)
Assess stability (is the process predictable?)
Compare machines and equipment to Continuously Improve and make good decision when investing in new machines
Evaluate the effect of improvements (has the center and / or variation of the process changed?)
Avoid overreacting to normal variation (causing greater variation)
Learn from special cause variation (conduct Root cause analysis)
Exercises: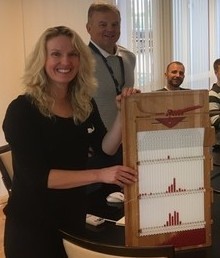 Galton board is used during the training for basic understanding of statistics and to generate Control Charts. Exercises will focus on practical applications of Control Charts.
Course content:
Control Charts and benefits of using them
Difference between normal and special cause variation
How to react to normal versus special variation
Prerequisites for using Control Charts
How to calculate Control limits
Applications of Control Charts
Tests for Special Cause variation
In Control versus Not In Control
Introduction to Capability
How to determine Capability?
Control limits and Customer Specifications
In Control versus Capable
Different type of Control Chart and when to use them
Practical examples