Measurement system evaluation
This course teaches you how to design, perform and analyze a Measurement System Evaluation.
Reliable measurements are necessary to make good decisions. This course is 1-day training where we combine theory with practical exercises.
You learn how to create a Process map of the Measurement method to better understand the method. The Process map includes variables that contribute to variation. These variables are possible root causes of Measurement Systems that are not capabel.
We use a Galton board to understand basic statistics and the concept of normal and special variation. You learn to create Control Charts to decide normal variation. Control charts are used to assess characteristics of your Measurement System.
We discuss applications that are relevant to you.
You need excel for the exercises and will get an excel file you can use to create Control Charts and perform Measurement System Evaluations.
---
You learn to:
Create a process map of your Measurement system
Identify variables that contribute to variation
Design measurement system evaluations based on hypotheses
Collect data based on design
Assess the following characteristics of your measurement system:

precision and accuracy
repeatability and reproducibility
stability, bias and linearity
sensitivity (resolution)
capability - ability to detect differences in the medium being measured
Exercises: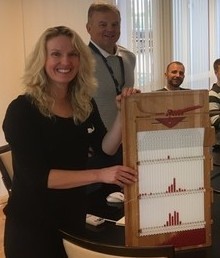 Galton board is used during the training for basic understanding of statistics, and practical exercises.
Applications:
Determine how much of the total variation is due to the measurement system
Compare internal inspection standards with customer standards
Highlight areas where calibration training is needed
Evaluate training of how analyzes are performed
Compare existing measuring equipment
Qualify new measuring equipment
Compare measurements between operators and instruments
Compare measurement methods
Provide criteria for new measurement systems
Identify abnormal measurements
Evaluate a measuring instrument before and after repair