Design of Experiment - DOE
This course teach you how to use Design of Experiment - DOE to perform effective and efficient experiments, thereby reducing development costs and time.
Proper design and analysis helps you determine optimal solutions for your product, process or service.
The course is 2 days. It is arranged on request from companies with 6 - 12 participants and according to the course calendar.
The course is a mixture of theory and practice. The participants design experiments themselves, collect data, analyze, conclude and adjust to find optimal solutions. We will use a Galton board and catapults during the exercises.
To design and analyze the experiments during training, we use Minitab unless otherwise agreed (Minitab and JMP are alternative solutions). You can download a 30 days free trial version before this course.
---
You learn to:
Reduce development time and cost for products, processes and services by using efficient and effective experiemental designs
Describe the advantages and disadvantages of different designs and make well-considered choices
Analyze and interpret results from experimental design using Minitab
Decide which combination of factor values ​​provide the optimal result
Understand how factors can interact and affect the process or product
Exercises: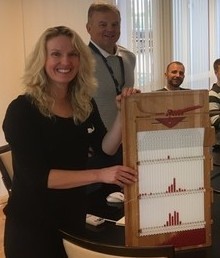 Galton board is used during the training for basic understanding of statistics, and practical exercises.
Course content:
Introduction to DOE
Implementation step by step:

Determine objective
Select factors
Identify combinations
Plan the experiment
Run the experiment
Analyze and take action

Full factorial & fractional factorial
Nomenclature & # of runs
Randomization, blocking and center point
Graphical & statistical analysis in Minitab
Determine the effect of factors and interactions
Determine the level of factors for optimal results