Lean Six Sigma Green Belt
This Green Belt training teach you how to lead successful projects and develop your problem-solving skills.
Lean Tech offers the following training with certification:
Green Belt online course (32 h), available until July 1st, 3.900 NOK
Green Belt online course (16 h), available July 1st, 3.900 NOK
Green Belt online course (16 h), 5 web meetings of 2 h and 4 h coaching, 14.500 NOK
Green Belt online course (16 h) in combination with 4 days classroom training, 19.850 NOK
The course content is the same for all courses. The course provides 32 PDUs at Project Management Institutes (PMI) and 3.2 CEUs by International Certification Standard IACET.
---
This course enables you to:
---
Select the right projects
Define the problem that needs to be solved
Measure the current problem and baseline the process
Analyze the process and identify the cause of the problem
Improve the process by implementing and verifying the best solution
Control the new process by maintaining the solution
---
Course content
---
Introduction
Overview of Lean Six Sigma
Cost of poor quality - COPQ
Reduce variation
8 wastes
Lean Six Sigma roles (White, Yellow, Green, Black & Master Black belts, Champion)
PDCA & DMAIC overview
Project selection (guidelines, challenges, questions to ask, filtering opportunities)
Define phase - understand problem
Project charter & Thought Map
Voice of the customer - VOC (internal & external - clarify requirements)
Process mapping:

Process Walk
High-level process map
Value Stream Map (VSM)
Swimlane & Spaghetti map

Project communication (plan, A3, Stakeholder analysis, meeting productivity)
Conclusions
Measure phase - map current situation
Select relevant Measures
Data types (discrete & continuous)
Operational definition
Stratification Factors)
Data collection (Check Sheet, occurence, sampling, bias)
Measurement System Analysis - MSA (repeatability, reproducibility, accuracy, precision)
Baseline data
Conclusions (Project Storyboard, challenges, checklist & deliverables)
Analyze phase - prove root causes
Conduct Process analysis
Graphical analysis

Histogram and basic statistics
Pie & Bar charts
Pareto chart
Run chart
Box plot

Brainstorm root causes
Develop root cause Hypotheses
Validate root cause Hypothesis (observation, data collection, graphical analysis, correlation)
Conclusions (Project Storyboard, challenges, checklist & deliverables)
Improve phase - solve root causes
Decide team members
Craft solutions
Lean improvement principles
Single-piece flow vs. batching
Changeover reduction (SMED)
Work cell design
Work balancing & Demand leveling
Cross-Training & Parallel Processing
Kanbans & Just-in-time
Standard Work & 5S
Future state map
Filter solutions (Priority Matrixes)
Conduct risk management
Determine Solution approach
Conclusions
Control - create lasting results
Create Monitoring plans

Control charts for key measures
5S assessment

Develop Response plans
Quantify effects
Document the Project

Project Storyboard
Procedures
Transition to Process owner

Pursue perfection

Innovation transfer
Change management
Continuous improvement

Conclusions
---
Classroom training
You will practice what you learn. The instructor will guide & support you.
4 days of classroom:
1 h start-up meeting
2 sessions of 2 days
8 days of classroom: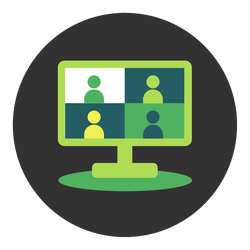 Web meetings
You learn by practical exercises and interacting with the instructor and the other participants.
We use Teams (or similar solution) for the web meetings and solve tasks individually or in groups.
The training with web meetings include 5 meetings of 2 hours.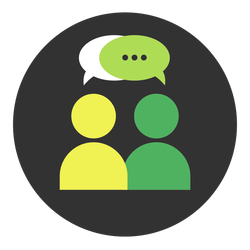 Coaching
You get help and support based on your needs.
2 hours 1 to 1 coaching is agreed with the instructor during the period the online meetings take place.
2 group coaching of 1 hour respectively 1 and 2 months after the last web meeting.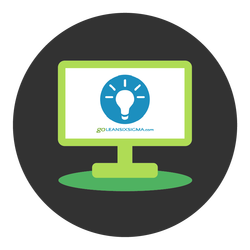 Online training
The online training is in English, delivered by GoLeanSixSigma.
You have access to the course and certification for a year (unlimited re-takes on exam).
Classroom training, web meetings and coaching can be held in Norwegian or English. Inform about your preference upon registration.
---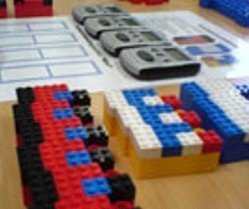 During classroom training we will practice Lean Six Sigma by playing a Lego game. The Lego game was developed by John Bicheno at the Lean Enterprise Research Center at Cardiff Business School, and later developed by Joakim Hillberg at Revere in Sweden.
The game is used by companies, universities and consultants in several countries to provide practical experience and understanding of Lean Six Sigma principles.
We also use other types of games and exercises to practice theory. The Galton board is used to understand statistical concepts and control charts.
---
Online Training
GoLeanSixSigma delivers online training developed by highly successful Lean Six Sigma consultants and trainers with broad international experience.
GoLeanSixSigma's learning methods focus on practical application, not just "knowing the concepts and tools" - enabling course participants to start using Lean Six Sigma right away.
> 220,000 participants from 220 countries have participated so far. They have given the training the highest score.
Participants describe the courses as fun, accessible, affordable, practical, easy to understand and effective.
Practical exercises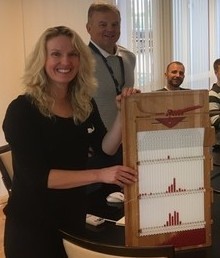 Galton board is used during the training for basic understanding of statistics, and practical exercises.
Bonus content
Template Toolkit (value $49)
Guide to DMAIC ($14)
Lean Six Sigma Glossary ($12)
eBook: The Problem-Solver's Toolkit ($9)
Certification
To become certified Green Belt, you must pass the 130-question exam.
The content is divided into 6 sections (Introduction, Define, Measure, Analyze, Improve & Control) and you must answer 80% of the questions within each section correctly.
You have 4 hours to complete the exam and unlimited number of attempts.
Certification can be customized based on your company's need.