Hypothesis testing
When solving problems and determining casual relationships, we want to test if our hypothesis is true or false. This course teach you how to do that.
Have you ever made a change to improve a process and wanted to determine the effect? Or compared data from different machines, shifts, departments, locations, etc. and been in doubt whether there are significant differences? This training is for you!
This course is 1-day training where we combine theory with practical exercises.
We use a Galton board to understand basic statistics, generate data and test if there are significant differences between datasets.
What does it take to make significant differences? How does sample size affect?
We use SigmaXL (Add-in to excel) during training, unless otherwise agreed (Minitab and JMP are alternative solutions). You can download a 30 days free trial version before this course.
---
You will learn to:
Develop hypothesis about causal relationship
Determine if datasets have significant different center or variation
Determine if an improvement made significant changes
Understand causal relationships using statistics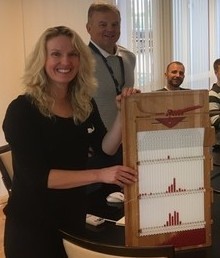 Galton board is used during the training for basic understanding of statistics, and practical exercises.
Course content:
Develop hypothesis based on theories
Practical and statistical significance
Statistics and probability
Hypothesis testing with continuous and discrete data
Type I and Type II errors
Assess sampling strategy and number of samples
Correlation and regression